Dashboard
The Touch Control Dashboard is starting point for all commonly used functions. Everything you need to do on a daily basis is right here. From, writing a ticket, picking up an order, researching a customer history, recalling a ticket, to voiding an order. It's all in one place!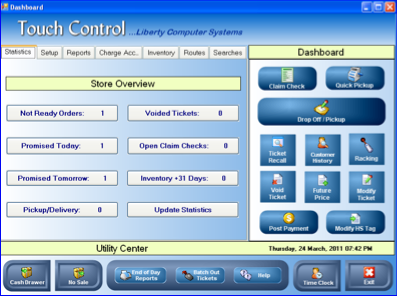 No more searching for features. This means quicker training of employees and faster processing of orders for your customers.
Ticket Writing
The Touch Control program makes ticket writing easy, yet is also very powerful. From here we can write an order, update any changes to a customers account and pick up an order without losing any detail of the ticket we are currently writing.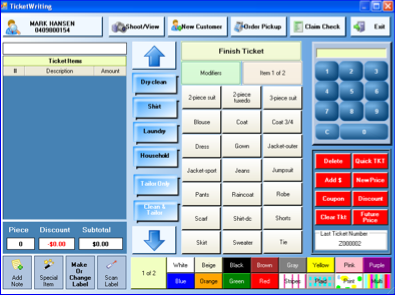 While you are writing an order the Touch Control program knows which price table the customer uses, if there are any automatic discounts that need to be applied, if they are a cash or charge customer, if they are on a delivery route and much more. You no longer need to remember this information. The Touch Control program does this all for you.



Split Tickets

Store Credits

Email Customer Tickets

Heat Seal Integration

Accurate Pricing

Control Employee Theft

Garment Tag Printing

Credit Card Integration

Email Ready Integration

Camera Capture

Marketing
A/R Billing

Cash Guard Monitoring

Employee Accountability

Frequent Cleaning Club

Easy to Learn & Use

Search by Name, Phone, Cell #, Invoice # or Heat Seal


Customer Selection
The Customer Selection screen provides you with a quick snapshot of a customers current information prior to writing a ticket or picking up an order.